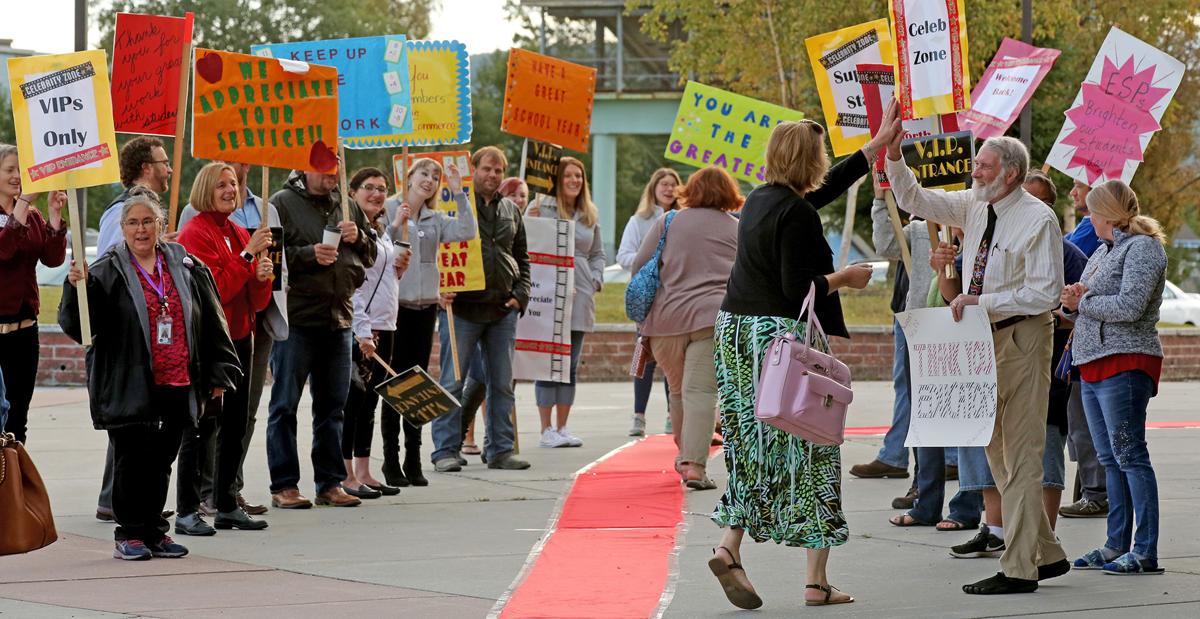 FAIRBANKS — Gov. Bill Walker signed four education bills Friday morning at Lathrop High School as part of the Fairbanks North Star Borough School District's annual teacher welcome back and in-service day.
Walker, before signing the bills, spoke to Fairbanks teachers gathered in Hering Auditorium.
"We are a resource state, but our most important resources are our children and our students," he said, noting that the state has made a financial turn in being able to forward-fund education for the first time this year.
"I'm so proud that we've made that turn, that we're no longer sending out pink slips," Walker said. "We will never again have to determine the quality of education based upon the price of oil."
Walker was joined by Sen. Click Bishop, R-Fairbanks; Sen. Pete Kelly, R-Fairbanks; Sen. Peter Micciche, R-Soldotna; Sen. Anna MacKinnon, R-Eagle River; and Rep. Justin Parish, D-Juneau.
House Bill 212 expands the budget for rural school construction to address a growing maintenance backlog in addition to working on construction of new schools.
House Bill 213 moves the Public School Trust Fund to a percent of market value approach, maximizing the fund's ability to grow while guaranteeing the largest possible sustainable payout to education each year.
Parish sponsored the bill and joined Walker on stage.
"My bill doesn't solve the problem, it brings in a few million more a year for education," said Parish, who said he was working in a school about 21/2 years ago as a para-educator. "It's modernized the management of a large trust fund, but doesn't solve the problem."
An amendment to the bill that created a permanent fund dividend raffle, of which 75 percent of the proceeds go to Alaska schools, was sponsored by Bishop, who also joined Walker on stage.
"I know the trials and tribulations and struggles we've had from time to time on education funding, and I was looking at a new way to help support education, not supplant the general fund money but to add to," Bishop said.
Senate Bill 185, sponsored by Micciche, allows districts to rehire retired teachers, providing support in the classroom as schools with high teacher turnover rates embrace the challenge of finding permanent teachers.
"It didn't make sense to me that with all the vacancies we have around the state, that we could bring up teachers from the Lower 48 to take a position but we couldn't hire my mother-in-law down the street from the school where she was a lifetime instructor," Micciche said.
Senate Bill 216 removes the immediate financial penalty for school consolidation. Schools now have a five-year grace period to adjust to the lower levels of per-student funding that come with larger student counts at a school that absorbs students from a school that is being closed.