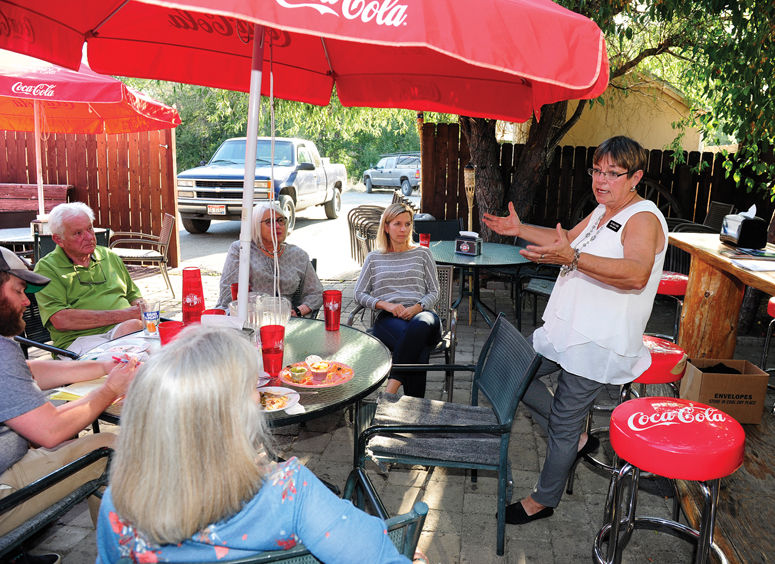 State Rep. Sally Toone spent 37 years in the classroom before being elected to serve in the Idaho Legislature. Now, she's trying to teach her colleagues a thing or two about education.
    "Look at the House Education Committee," she told a group of supporters at Mahoney's Bar & Grill in Bellevue on Wednesday night. "You've got people sitting there who don't understand education. They need to listen to us who have been in the classroom. Unless you're in that world, you have no idea what a teacher goes through."
    That's why the Gooding Democrat sits on the committee herself—and, why she's staking her re-election campaign on the issue of improving Idaho schools.
Toone faces a November challenge from Camas County Republican Mike McFadyen for District 26 Seat B, which represents Blaine, Camas, Gooding and Lincoln Counties.
    Teachers in those rural counties face unique challenges, as do the schools that try to recruit them, Toone said.
    Even with recent bumps to school funding, Idaho ranks second to last nationally in per-pupil spending, and, on average, pays teachers less than every state it borders, according to U.S. Census data.
    "We're 49th in education expenditure, and our schools aren't disasters—that's an impressive feat," Toone said. "But, we can do better. That's the point: We can do better."
    To Toone, much of that comes down to teachers—who are increasingly hard to find in southern Idaho.
    For each of the past two sessions, she's proposed legislation to offer student-loan forgiveness for rural teachers, up to $3,000 annually for four years. So far, it hasn't received a floor vote, but if re-elected she plans to try again.
    "I want to see our teachers valued," she said. "If we don't value our teachers, what does that say about how we value our kids' future?
    "I want my teacher working after hours on lesson plans so they're ready the next morning. I don't want them heading downtown to a second job so they can make rent, or pay off their loans."
    She also plans to push for alternative paths to certification, and higher pay to bolster the ranks.
Last year, 93 of the state's 115 school districts ran levies to supplement state funding for schools, collecting a record $194.7 million, according to the state Department of Education.
    There's a place for that, Toone said, but not as a replacement for state support.
    "The state has to adequately fund an education that meets the needs of our children. If a local district wants to go above and beyond that? That's where a levy comes in," she said.
    "We have an obligation to educating our kids for the 21st century," Toone added. "I truly think that's the responsibility of the state. It's in our constitution. It's a conversation you just keep having. You need to recognize what's archaic. Keep putting new ideas forward. Embrace what we have, and keep trying to make it better."